Voyage and Discovery
Stories of migration and incredible voyages are integral to Aotearoa New Zealand's identity. The Museums of Auckland collections explore those early journeys and reveal the country's Pacific origins and how they have shaped New Zealand culture and traditions and strong ties to the sea and land.
Voyaging from Hawaiki
Looking on a world map or digging in an old atlas won't provide a single geographic location for 'Hawaiki', the original homeland of the Māori people who settled New Zealand.
Instead, a combination of scientific research and oral histories passed down through generations suggest that Aotearoa was most likely settled by people from throughout Polynesia, an area made up of more than 1000 islands in the central and southern Pacific Ocean.
Rather than a mass arrival of a fleet of waka, as was once theorised, it is thought smaller groups arrived from around the Pacific, from the late 13th century onwards, and some may have made return trips to the islands they had come from.
While Hawaiki is used more commonly now to refer to a spiritual homeland, it is true that New Zealand was settled by skilled navigators who travelled thousands of miles by waka (canoe) using their expert knowledge of the sea, stars, sky and birds to guide them.
In Auckland Art Gallery Toi o Tamaki's collections Brett Graham's Tu Pasifika (1998) echoes the punga or the anchor stone used by voyaging canoes when making landfall.
The title Tu Pasifika refers to the Māori word turangawaewae – having a place to stand. For Māori this is a crucial concept that speaks of one's place within the world. Tu Pasifika also makes reference to Māori ancestral connections to the wider Pacific. It recalls Māori migratory narratives and journeys which connect Māori people to Hawaiki – a Pacific homeland.
The work's haehae carving pattern with its concentrically chiselled grooves references the idea of genealogy and descent lines.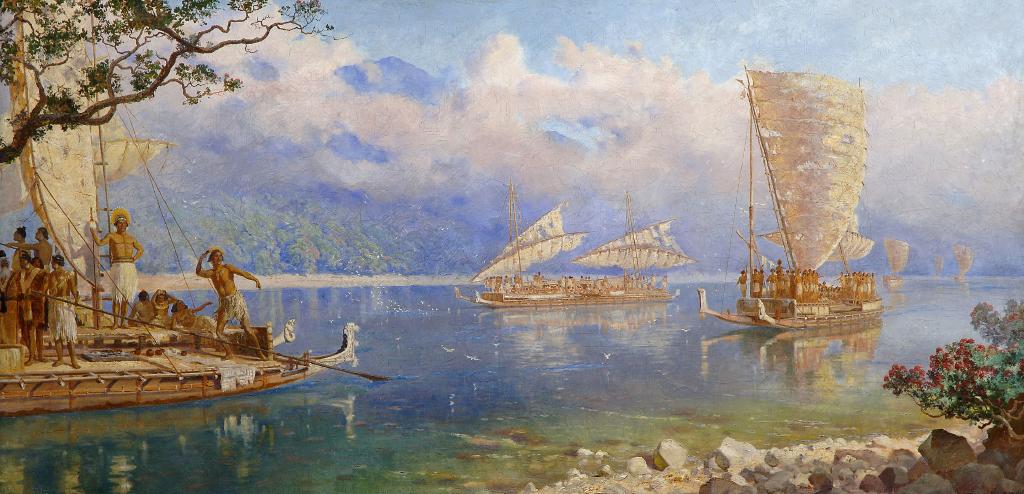 Another work in the gallery's collection that depicts one of the early migration stories is Kennett Watkins' The Legend of the Voyage to New Zealand (1912).
"The 'legend' referred to in the painting's title recounts a story retold over many generations of the history of the migration waka (canoes), Tainui and Arawa, that made landfall while the pohutukawa tree was blooming.
During their elation of discovering the red-plumed foliage of Aotearoa, some of the voyagers cast overboard their kura, the prized red-feather ornaments carried from Hawaiki, believing that the tree trunks were filled with the red-feathered bird known as amokura." (Picturing History, 2009)
Skilled navigators
The collections on display and the programmes offered by the Museums of Auckland evidence how skilled and knowledgeable the early Pacific navigators were.
Over 30,000 objects are held in Auckland Museum's world-class Pacific Collection and many of those speak to the traditions and tools used to reach New Zealand in those early journeys.
One example is the Fijian camakau or outrigger canoe on display in the Pacific Lifeways gallery.
The Museum offers education programmes telling the stories of skilled Pacific navigators including Te Ao Pasifika: Camakau for students and community groups which centres on the Fijian outrigger canoe and investigates the materials and design of Pacific navigation tools, and how navigators and voyagers used the stars, waves, marine birds and other natural elements as guides.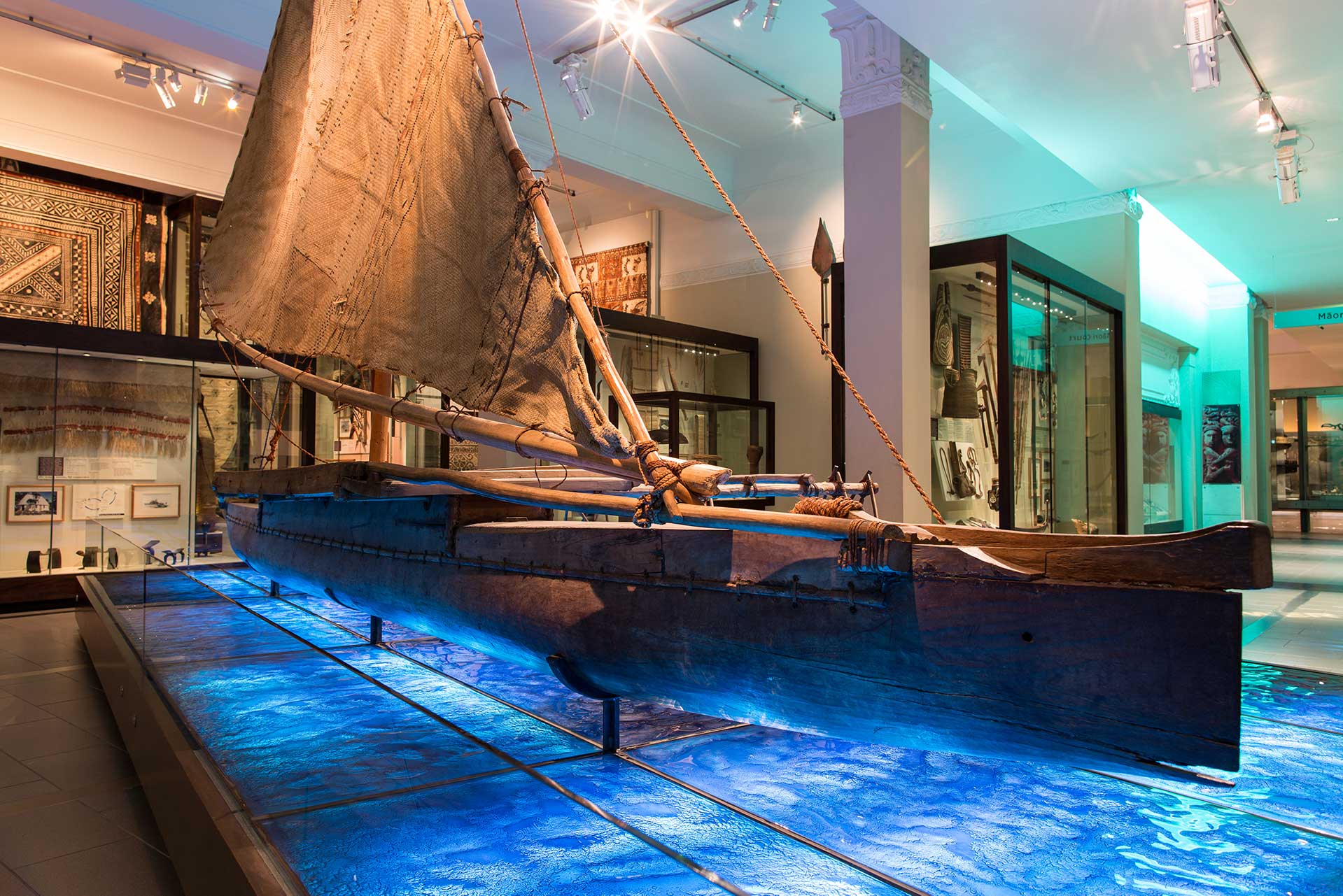 New Zealand Maritime Museum also holds an outrigger canoe from Kiribati in their collections. 'Taratai' was built to demonstrate traditional knowledge and skills in terms of both construction and navigation.
Instead of nails, more than eight kilometres of cordage made with rolled coconut fibre was used to lash the canoe together and in 1976 the canoe, with a crew of 13, was sailed 2,400 kilometres to Fiji.
Stardome offers a popular celestial navigation programmes for school groups and special night events for the public at select times throughout the year.
The celestial navigation programme is a two-hour session, presented in the 360° planetarium theatre which introduces people to important directional stars and constellations as seen from New Zealand and other parts of the world.
"These techniques were traditionally used across the Pacific and greatly aided their migration efforts. This knowledge has been passed down through generations and is valued as an important part of Māori history."
Close connections
By population, Māori is New Zealand second-largest major ethnic group after Europeans and Pacific peoples are the fourth-largest.
The rich and diverse Māori and Pacific cultures are integral to New Zealand's identity and heavily influence our arts, music and traditions.
One example of this is tukutuku panels, a traditional Māori art form, which grace the walls of meeting houses. They play an important role in the storytelling of each whare (house), while adding warmth and beauty to the interior walls.
An example of this beautiful craftmanship and artistic skill is on display at New Zealand Maritime Museum – Ko Ngā Tai e Pari Ana, The Flowing Tides.
"These panels were made especially for the museum by women from Ngāti Whātua Ōrākei, the local tribe, who are recognised as the iwi who maintain the ahi kā (burning fires) in Tāmaki Makaurau (Auckland)."
"They represent proverbs of the Ngāi Tai people, whose ancestors arrived by canoe from Hawaiki, the mythical homeland of Māori, and settled in Tāmaki Makaurau."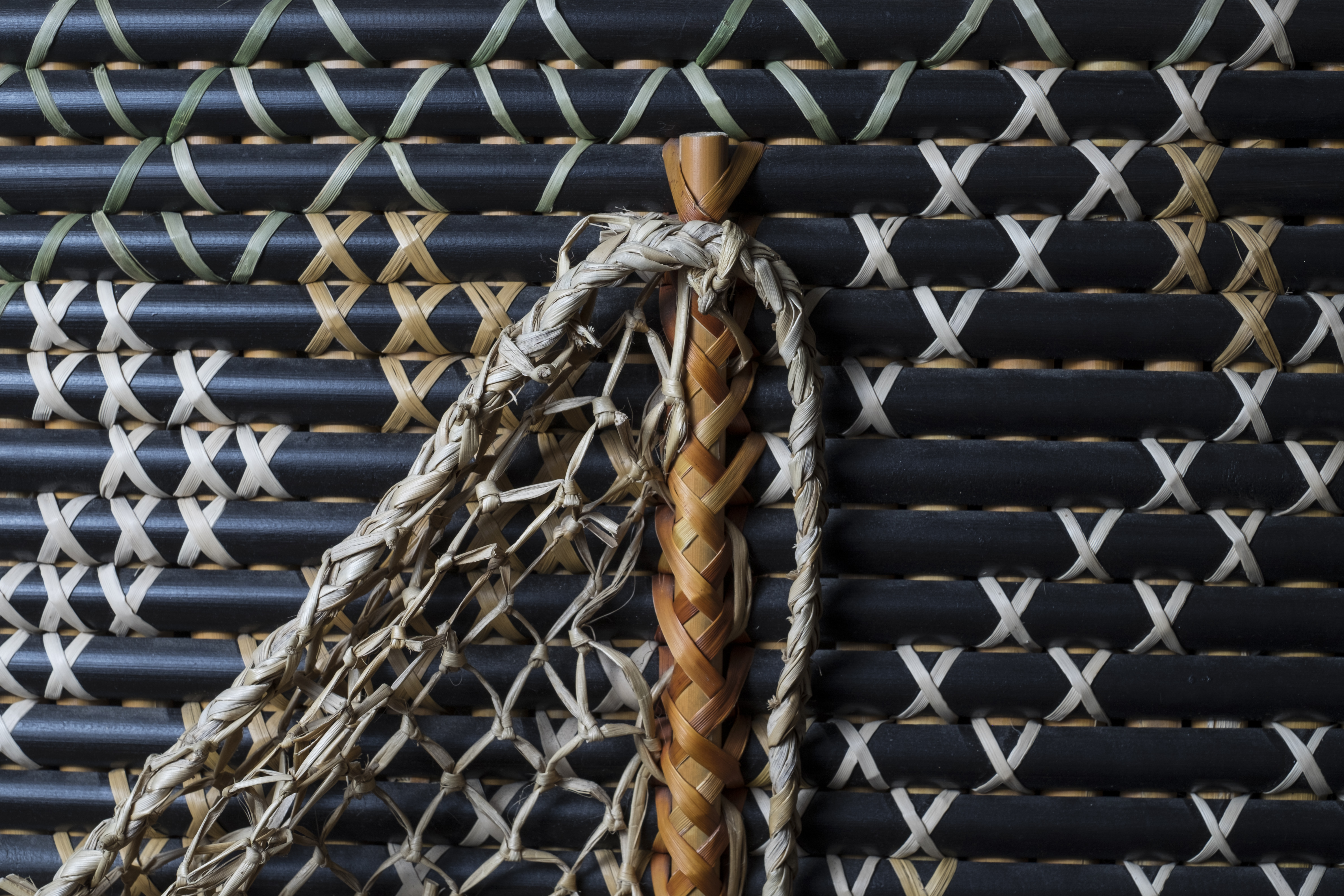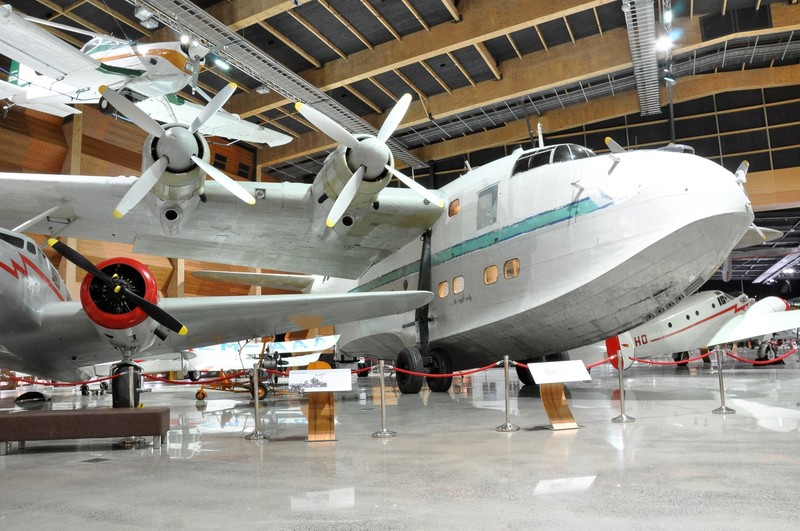 At MOTAT, the Museum of Transport and Technology, one of its treasured collection items speaks to the beauty of the Pacific islands and their popularity as a travel destinations for both New Zealanders and international holidaymakers.
ZK-AMO Aranui is the last remaining Short Solent Mk.4 Flying Boat worldwide and is one of MOTAT's collection jewels. Built by Short Brothers and Harland of Belfast in 1949, the Aranui was one of four Solent Mk.4 aircraft flown by New Zealand's TEAL (Tasman Empire Airways Limited) airline.
"From 1950 until 1960 she served on the Coral Route. Aranui left from the Waitematā Harbour in Auckland, and travelled to Fiji, Rarotonga and Tahiti, later extending the journey to Samoa and Tonga."
"Akaiami in Rarotonga was the only international airport in the world on an uninhabited island. This stop was popular for its beauty and for the unique experience of having a tropical swim mid-way through an international flight, as the flying boat was refuelled by launches from nearby Aitutaki."
TEAL made the Coral Route famous by marketing it with photogenic movie stars holidaying in the islands, and with beautiful artwork showcasing the beauty of the Pacific. Taking a flying boat journey was such an occasion that passenger lists published in daily newspapers.
"Aranui is being carefully conserved at MOTAT so her stories of tourism and adventure in the Pacific Islands are preserved for generations to come."
Guardians not gatekeepers
This is a philosophy shared by all the Museums of Auckland: their role is to act as kaitiaki or guardians for the collections items in their care and to ensure that people can readily access them – both online and in person – and discover their stories and their history.
Auckland Museum has expanded on this philosophy with their three-year Pacific Collections Access Project which is inviting Pacific communities to come and connect with collection items and to share their knowledge.
The project coincides with the Museum's work in cataloguing and carrying out conservation work on its large Pacific Collection but it is unique in inviting people from different Pacific communities – including the Cook Islands, Fiji, French Polynesia, Hawai'i, Kiribati, Niue, Pitcairn Island, Rapa Nui, Sāmoa, Tokelau, Tonga, Tuvalu, and Wallis and Futuna – to come and be part of that process and add their unique cultural and traditional perspectives on the collections they have connections with.
Barbara Afitu, Community Engagement Facilitator, says being part of the project, which has seen more than 70 visits from over 1400 individuals, is an incredible privilege.
"Our communities are the experts – their eyes have seen, their ears have heard, their hands have made. There has also been a lot of emotion in the process – for elders these collections can connect them with memories of their families and where they have come from. For many young Pacific people, they are second or third-born generation Kiwis and this is a way for them to connect and to see the beauty and skill of their traditions and culture."